Apple predicts record sales as iPhone 6S is launched
Comments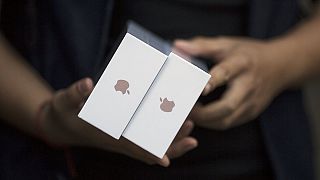 The hundreds of people standing in the queue in Paris were weary but excited by the first light of day.
For them and for thousands of Apple fans the long night spent outdoors was worth the discomfort.
The iPhone 6S range was about to go on sale.
There were cheers in Paris and cities around the world as the stores' doors opened.
Despite the race to be the first to buy the new phone queues were said to be much smaller than last year.
One customer, Cory from Los Angeles, queued because he did not want to be put on a month-long waiting list.
"I think I like to be the first to have it so, I just wanted to have it now, I guess it is a bit selfish because I want it now, so I just wait in line and get it now," he said.
"My opinion, if i renew my iPhone every time again, again and again it is really not that expensive, I sell the iPhone, you can sell it for 500 or 600 euros and then you can buy a new one," said Joeri from Belgium.
Apple expects sales over the first weekend to exceed the 10 million that got snapped up last year.
But some analysts and investors question that optimism. They believe that last year's success might be hard to beat and demand may in fact be lower.
It's thought the iPhone's growth outlook may be limited amid economic uncertainty in China.
I'm trying to think of ANYTHING I would camp out overnight to buy… and I got nothin'. #iPhone6 What about you? pic.twitter.com/VnHyOADFXt

— Heidi Voight (@HeidiVoight) September 25, 2015