New Greek government gets off to bumpy start, with a row over tweets
Comments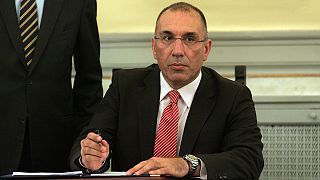 Greece' newly elected government hit its first setback hours after it was sworn in on Wednesday, in a row over whether a junior minister had posted offensive tweets online.
In what might be one of the shortest cabinet appointments in recent years, deputy infrastructure and transport minister Dimitris Kammenos was asked to resign, amid a furore over alleged postings on Twitter.
"Until the truth is clarified on anti-semitic and racist posts, the deputy minister will facilitate (the issue) with his resignation," Panos Kammenos, the leader of the Independent Greeks party, said in a posting on his official Twitter account.
Μέχρι την απόδειξη της αλήθειας για την υπόθεση των αντισημιτικών ρατσιστικών αναρτήσεων ο υφυπουργός θα διευκολύνει με την παραίτηση του

— Panos Kammenos (@PanosKammenos) September 23, 2015
The minister was named in a new cabinet sworn in earlier Wednesday under Prime Minister Alexis Tsipras. Dimitris Kammenos, who is unrelated to his party leader, was not immediately available for comment.
Kammenos is a member of the right-wing Independent Greeks (IG) party, coalition partners with Tsipras's leftist Syriza party.
In a statement, Kammenos said his social media posts were handled by a team of aides and his accounts had been hacked many times. He said the majority of the alleged postings were 'distortions of the truth'.
"I am opposed to any related posts which were perceived or were insulting to groups of fellow citizens. With this statement, I want to personally apologise to anyone disturbed (by this), and categorically condemn racism, homophobia and anti-semitism," Kammenos said in a statement.
Tsipras, in Brussels for a summit on the European migrant crisis, telephoned his IG partners and asked for an explanation, an aide to the prime minister said.
"The prime minister said that if all this is true, if these tweets are true, then he has to be relieved of his duties," the aide told Reuters.
A replacement has already been found, the aide said.
One Syriza lawmaker, Vassiliki Katrivanou, said the appointment was "a disgrace". The opposition Socialist PASOK party said it was a "blatant violation of fundamental principles of the political left."
"Instead of turning its back on the past, the government is legitimising racism and anti-semitism," a PASOK spokesman said.
Dimitris Kammenos stirred controversy in the summer with a posting on his Facebook account superimposing the words "We will stay in Europe" on a photograph of the entrance to the Auschwitz concentration camp.
Auschwitz: That's what the new Greek minister Dimitris Kammenos, of "Independent Greeks" thinks of Europe. #shamepic.twitter.com/Pc58dWRmPd

— Stratos Safioleas (@stratosathens) September 23, 2015
#shame: Just appointed Greek minister Dimitris Kammenos PORTAPORTA</a> says: on Sep11 no Jews went to the Twin Towers. <a href="http://t.co/9pOl9B9yfu">pic.twitter.com/9pOl9B9yfu</a></p>&mdash; Stratos Safioleas (stratosathens) September 22, 2015
It was his perceived attempt to illustrate the hardship encountered by Greeks, but slammed by many, including Greece's Jewish community, as a "hideous attempt to trivialise" Auschwitz. Kammenos later put it down to a misunderstanding.
Source: Reuters