China 'staunch defender of cyber security,' Xi Jinping tells US
Comments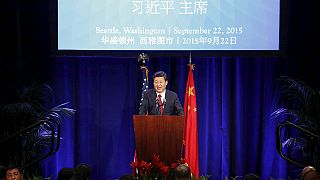 Fighting cyber crime is a priority for China, President Xi Jinping said in a speech in Seattle.
The Chinese premier is in the US for a week-long official visit to offer assurances on the topic, following allegations of cyber attacks on American businesses and government agencies.
Beijing has always denied playing any part in the breaches.
"China is a staunch defender of cyber security and also a victim of hacker attacks. The Chinese government will not in whatever form engage in commercial theft and hacking against government networks. They are crimes that must be punished in accordance with the law and relevant international treaties," said Xi.
Boeing deal confirmed
Following a meeting with plane maker Boeing, it has been announced Chiense companies will buy 300 aircraft. Confirmation has also been given of a deal for a new factory in China.
Restless in Seattle
Not everything went smoothly in Seattle. Xi spoke before a somewhat sceptical audience at the US-China Governors Forum.
Outside, protesters called for a discussion on human rights issues, calling China to task for its policies on Tibet, Taiwan and freedom of speech.
But Beijing, one of the largest holders of US government debt, will be keen to focus on financial assurances. China's recent economic slump has provoked international concern.
The leader's visit will culminate in an address to the United Nations General Assembly.