Syriza has "clear mandate" says Tsipras
Comments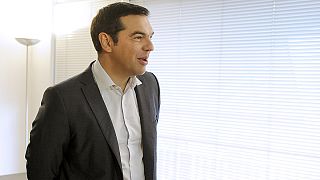 Alexis Tsipras says his party has a "clear mandate" following a second general election win in less than nine months.
Greece's leftist Syriza party leader has been swept back into office after a surprisingly decisive election victory.
Syriza is to form a coalition government with the nationalist Independent Greeks, its previous partner.
Despite expected tax hikes and possible further cuts to wages and benefits, Tsipras promised stability, and a full term in charge.
"We fought a tough and difficult battle and I feel vindicated today because the Greek people gave us a clear mandate to continue fighting inside and outside the country to boost our people's pride," he told supporters in Athens.
Turnout was low for the snap election, which was called after Tsipras lost his majority in August.
He is not out of the woods, yet.With a bailout review due next month a migrant crisis on Greece's doorstep, the leader will be expected to hit the ground running.