Crimean Tatars block roads from Ukraine in protest against Kyiv
Comments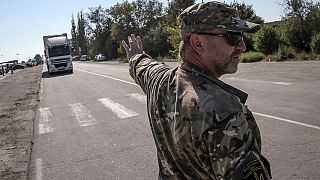 Crimean Tatars have intensified their blockades of roads leading into their Russian-occupied homeland from Ukraine.
Despite the occupation Kyiv has continued to allow traffic to flow as Crimea is totally dependent on Ukraine for food and other merchandise, and trade is vital for both sides.
But the Russians have expelled many Tatars, and many complain of discrimination and repression. Now Ukraine is coming under fire, too.
"What kind of a government of a state is it if they don't understand and don't want to see what is happening when all these products cross the border? They surely know this, if the Ukrainian government keeps its eyes closed it is because they are doing it deliberately and there are some agreements. It is obviously unfair and disgraceful that it is up to the Crimean Tatar's council, the Mejilis, to take this action, and not the Ukrainian government. They should be responsible for that," said leading Council member Ali Özembash, speaking to euronews.
Tatars have been joined by civil organisations from Kyiv and members of the far-right Right Sector, with local police keeping a watchful eye and warning truck drivers to respect their action as much as possible. They are also checking drivers to see if their paperwork is in order to cross the border, and levying fines if they do not.