Thirteen migrants drown in collision with ferry off Turkish coast
Comments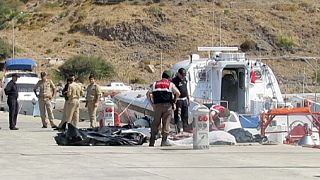 Greek and Turkish coastguards reported the deaths of at least 13 people off the coast of Turkey on Sunday when a rubber boat carrying migrants headed for Lesbos collided with a ferry.
Six children are believed to be among the dead.
There is confusion over whether reports of 26 people feared missing from a boat in the same area was a separate accident.
Twenty people were said to have been rescued.
One surviver described his ordeal which happened in the early hours of the morning in the dark.
"[It was a ship] like this. At four o` clock in the morning. Me and my friends [we were] fifteen; now we are twelve. [The ship was] black and orange; I don't know. It had three floors. [We signaled] with laser and light, but they didn't stop."
Meanwhile thousands of migrants continue to risk their lives trying to cross the Mediterranean.
This weekend alone some 4,500 people have been rescued off the coast of Libya.
On Saturday Italy's coastguard said it had coordinated 20 rescue operations involving numerous vessels.
A sign of the magnitude of the exodus. Life vests left by refugees on Lesbos, Greece. By yannisBehrakis</a>, Reuters. <a href="http://t.co/tWGpafmWFl">pic.twitter.com/tWGpafmWFl</a></p>&mdash; Jenan Moussa (jenanmoussa) September 20, 2015