Burkina Faso to return to civilian rule after coup and mediation
Comments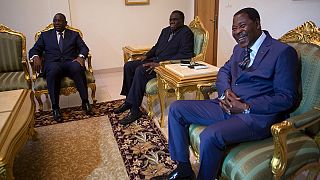 Burkina Faso is expected to reinstate an interim government on Sunday headed by President Michel Kafando.
It follows peace talks between African mediators and the head of the army coup General Gilbert Diendere whose troops stormed a cabinet meeting on Wednesday and abducted the president.
Yesterday he repeated his aim was to create conditions for October's presidential election to go ahead as planned and for the result to be undisputed.
It is unclear whether the deal reached includes an amnesty for the general whose soldiers have clashed with civilian protesters since the start of the coup. At least ten people have been killed and more than 100 others injured in the violence.
Burkina Faso, whose citizens toppled President Blaise Compaore last year as he sought to extend his 27-year rule, had been seen as a beacon for democratic aspirations across sub-Saharan Africa.