Migrants have gathered close to the Turkish town of Erdine hoping to cross into Greece
Comments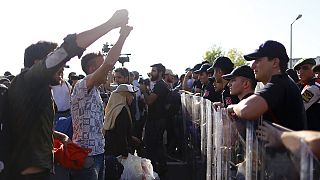 Walking into Europe is the dream of several hundred migrants who have made their way through Turkey to the Greek border but it has been closed.
The migrants have been waiting all week to cross and while many went back to Istanbul around a thousand have remained.
A water tank serves those who have stayed and a catering company provides food in their makeshift camp which they hope is a temporary home. Many have made the hopeful trek from Syria.
"We have fled the harsh living conditions which we experienced in Syria. We tried but we preferred not to go via the sea after the sinkings and all the problems," explained one man who wants to go to Sweden. Another told euronews of his aspirations.
"I think I'm going to Germany. Firstly I would like to convey a message to Europeans on what living conditions are like in Syria. Secondly I want to continue my studies that I had to quit in Syria," he said.
By the side of the surrounding fields the migrants held Friday prayers. They were joined by the Governor of Erdine the Turkish town closest to the border with Greece. Chants of "we are going to Erdine," filled the air but that is unlikely.
Turkish authorities say if Greece does not accept them there is nothing they can do.They hope their united voice is heard in Europe.
Bora Bayraktar euronews correspondent with the migrants reported: "It seems that the refugees who want to walk to Greece will not give up easily. As their waiting is prolonged the tension rises. And up to now the authorities have not been able to convince them to give up."