Mediation talks set to get underway in Burkina Faso
Comments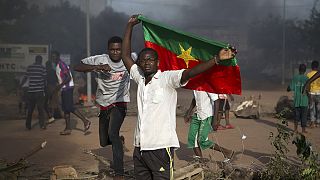 In Burkina Faso it is reported that three people have died and at least 13 have been injured at the main hospital in Ouagadougou.
The deaths came on Friday, the second day of protests against Wednesday's coup in the country. The leaders of the junta said they have freed interim President Michel Kafando and reopened the borders.
The actions are seen as an olive branch as those behind the rebellion have faced growing protests which have spread beyond the capital to other cities.
General Gilbert Diendre who led the power grab has come under diplomatic pressure as the African Union suspended Burkina Faso's membership of the bloc and warned of sanctions. He has now agreed to the "principle of dialogue".
Sengalese President Macky Sall and President Thomas Boni Yayi of Benin arrived in Burkina Faso to mediate.
The country was less than a month away from October 11 elections when soldiers loyal to Diendere burst into a cabinet meeting and arrested the interim president.
The October ballot was meant to restore democracy to the West African state.