Hungary expels migrants after fast-track court hearings
Comments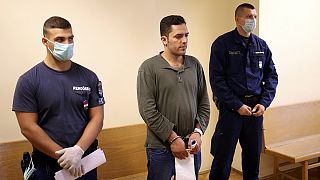 Illegal border crossing cases are being heard in Hungarian courts non-stop, every day, even on weekends.
Judges have been brought in from across the country to the city of Szeged, near the Serbian border, to fast-track cases.
Euronews witnessed the hearing of one 36-year-old man who has fled the war-shattered Syrian town of Kobani.
Helped by an interpreter, he asked the court to treat him as a human being and let him go to Germany.
The verdict was typical of that given to most standing in his position.
"The court judges that expulsion is sufficient punishment in this case,
so the accused is expelled from the territory of Hungary for 2 years," said Judge Dr. Noémi Mészáros.
On paper, a jail sentence could be handed down for breaching the border fence, an act now deemed criminal by Hungarian authorities.
The barrier needs constant repairs with hundreds of people trying every day to get through.
Euronews saw one group being boarded onto a bus.
Speaking from the Hungary-Serbia border, our correspondent Andrea Hajagos said:
"It seems that these people will be taken to the police right now. Probably they have just been caught trying to get into Hungary through the fence."
Hungary's treatment of migrants and refugees has been severely criticised by the UN's Human Rights Commission Chief Zeid Ra'ad Al Hussein and groups including Amnesty International.
#Refugees at border are suffering the extremely dire consequences of authorities in #Hungary. http://t.co/yRo1cpwtXupic.twitter.com/AZ5ZX4WHly

— AmnestyInternational (@amnesty) 17 Septembre 2015