Germany insists border remains open despite controls
Comments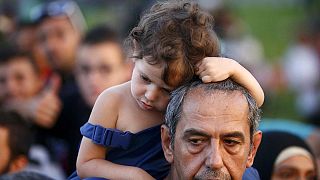 Hundreds of migrants and refugees have been gathering at the Austrian-German border following Berlin's decision to reintroduce border checks on Sunday.
Controls have also been extended along the length of Germany's frontier with the Czech Republic.
Trains from the Austrian city of Salzburg to Munich remain suspended, which has forced migrants and refugees to try cross the bridge over the river Saalach that marks the border, by foot.
The German interior minister has come under pressure because officials have been deemed too slow to process the number of refugees arriving in the country.
Speaking during a trip to an immigration centre in the Bavarian town of Rosenheim, Thomas de Maizière, said "the controls on the borders does not mean a closure of our (Germany's) borders. Instead entry into the country is coordinated and we know who is coming."
The European Parliament has voted to back plans for the mandatory relocation of 120,000 refugees across the European Union, but interior ministers from member states gave been unable to reach an agreement on the plan.