Journalists removed from sanctions list brought in by Ukraine President Petro Poroshenko
Comments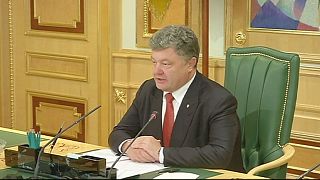 Ukraine President Petro Poroshenko has come under criticism for a series of sanctions he has imposed. It includes members of the press.
He signed the decree after pro-Russian separatists who have seized power in parts of the country set a date for what Kyiv sees as "illegal elections." 
The UK ambassador, Judith Gough met with the president. Three members of the BBC staff and journalists from Spain and Germany have now been taken off the list in what the ambassador said was a "welcome move".
"I will pass an immediate order to review this situation – that is me the Ukrainian fighting for the freedom of the press," he told the ambassador.
The list which has been called "odious" by the Russian Foreign Ministry named almost 400 people and around 90 legal entities as security threats.
A number of airlines are also blacklisted including the Russian state carrier Aeroflot. The companies will face partial or total ban on flights over the territory of Ukraine. Many fly to and from occupied territories in the east of Ukraine and to Crimea.
"The authorities should explain to those people who had bought tickets for flights what to do, when the flights are cancelled and who will reimburse them," Volodymyr Fesenko a political analyst told euronews.
Kyiv has stressed the decision was taken "in co-ordination with our partners from the European Union the United States of America and other countries".
Euronews correspondent in Ukraine Maria Korenyuk said: "The sanctions imposed by Ukraine will last for one year. Moreover, Petro Poroshenko has called on his European colleagues for an extension of Russian sanctions over the illegal Donbas elections".