Rugby World Cup: Lomu leads the line in street-side haka
Comments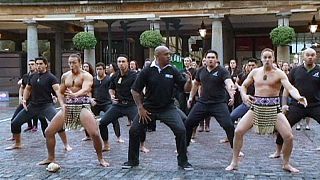 In the past the sight of Johna Lomu leading the line in a haka was one that put the fear into most, if not all, national rugby teams across the globe.
But this time it just gave an entertaining reminder to passersby in London that the highly-anticipated Rugby World Cup is just around the corner.
With two days to go until kick off Lomu took part in the haka – performed by London Maori Group, Ngati Ranana, in Covent Garden.
Lomu said: "It's not many times that people can get up close and personal with people doing the haka especially bringing it from New Zealand and doing it here and especially in such an iconic place as well and it's a bit of a priceless moment for a lot of people to be able to experience"
Hosts England and New Zealand are pre-tournament favourites but the former All Black warned of a potential surprise.
He said: "Everyone is talking about the usual suspects in terms of who are going to win the tournament; the New Zealands, the Englands, the Irelands, the Wales. The problem is they forget about the Polynesian South Pacific Island boys and those guys have a game or two that they will upset a team somewhere along the line".
Host nation England will be hoping to avoid one such upset when they kick-start the eighth edition of the event on Friday against Fiji at Twickenham.
While New Zealand's ancestral war dance will be on full display at Wembley on Sunday when the defending champs open up their pool campaign against Argentina.