Refugees seek alternative 'Balkan' route into EU
Comments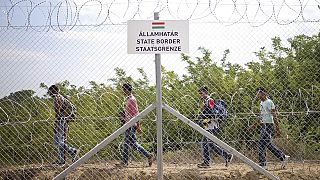 Hundreds of refugees stranded on the Serbian Hungarian border are now desperately searching for an alternative route into the European Union.
It follows Hungary's decision to close its frontier which seems likely to drag new countries into the crisis.
Buses that would normally carry migrants from Serbia's southern border with Macedonia northwards have reportedly been re-routed away from Hungary's razor-wire fence towards EU member Croatia.
As Croatia braces itself for the influx, Serbia's Interior Minister Nebojsa Stefanovic said Hungary's decision is unsustainable:
"Our job is of course to make Serbia as safe as possible, but also to care about these people and make sure that we are human enough. But this a European problem, this is not something that can be easily solved, not even in one country of Europe and especially in Serbia that is one of the smallest European states."
Hungary's Prime Minister Viktor Orban has defended his country's policy, saying he is following established asylum rules.
"If someone claims to be a refugee, he will be asked if he filed an asylum request in Serbia. And if he did not file it, since Serbia is a safe country, it will be rejected."
This year around 200,000 migrants seeking refuge from war and poverty in the Middle East have crossed into Hungary. The United Nations refugee agency UNHCR now expects the numbers to fall but for now there are hundreds at the border with nowhere to go.
Ali, born five days ago, sleeps on the ground at the Serbian-Hungarian border. pic.twitter.com/lRyMNNhYqg

— Terry Moran (@TerryMoran) September 15, 2015
New Hungarian laws
Anyone who crosses the border illegally will face charges.
The laws also make it a criminal offence – punishable by prison or deportation – to damage the newly built 4-million-euro razor-wire fence along Hungary's border with Serbia.
Hungary is also planning to build a fence to keep migrants out along part of its border with Romania, a fellow EU member.
Asylum applicants will be taken to registration centres, but if their applications are refused they will now be returned to Serbia rather than being given passage through Hungary.