Refugees shun the sea for the overland route into Europe from Turkey
Comments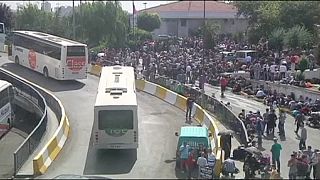 A new front may be opening up in Europe's refugee crisis, with increasing numbers of people looking to head for the Greek border by land via Turkey on buses.
In Istanbul police were deployed at the bus station to control the flow of people heading west, wanting to avoid the cost and danger of attempting a sea crossing. The police stopped hundreds of people, mainly Syrians, from boarding.
At Edirne close to the Greek border police briefly set up roadblocks and bus services to there were suspended. Hundreds began to gather at the bottleneck, with many taking to the
hills or the highway to walk into Greece.
Turkey has the world's largest refugee population, over two million people, but conditions are hard and there is no work, so more are leaving the safety of the camps for something they hope will better.
"We want to cross into Greece and stop resorting to traffickers. That's what we want, you know? We want to cross peacefully. Now we are staging a sit-in," said one Syrian man.
Turkey says it has already spent 5.7 billion euros on refugees from Syria and Iraq, but it is able to provide shelter and little more.