Jeremy Corbyn makes his first appearance as Leader of the Labour Party at Prime Minister's Question Time
Comments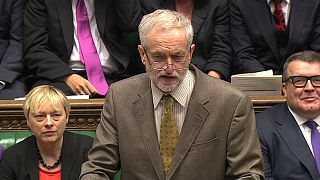 Pure theatre. That's how British Parliament's weekly question-and-answer session is viewed with verbal jousting between the prime minister and the leader of the opposition on matters of government policy or direction.
Enter Jeremy Corbyn and the veteran leftist's first move in the House. He wants the people to have their say in the chamber.
"Many told me that they thought Prime Minister's Question Time was too theatrical, that parliament was out of touch and too theatrical and they wanted things done differently, but above all they wanted their voice heard in parliament. So, I sent out an email to thousands of people and asked them what questions they would like to put to the prime minister and I received 40,000 replies," he told a packed House.
The session had been eagerly awaited with predictions of a fierce verbal dual. In the end it was a muted affair with many of Corbyn's colleagues saying the substance of his questions spoiled the Tories fun.
"If we are able to change Prime Minister's Questions and to make it a more genuine exercise and answering questions, no one would be more delighted than me," said Prime Minister David Cameron.
The new leader of the opposition has been under intense scrutiny and criticism after he failed to sing the national anthem when representing the Labour Party at a World War Two remembrance service.
It has dominated much of the British news agenda and pushed the 66-year-old's plans and reported policy differences with his front bench over welfare cuts and Europe to the bottom of the agenda.