Hungary border clashes: "Children were crying because of the gas, people retching"
Comments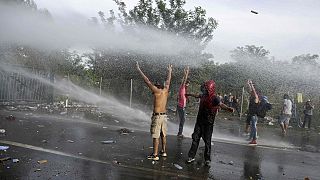 Wednesday's scenes of chaos and clashes between migrants and Hungarian police at the border with Serbia were witnessed by Euronews correspondent Dániel Bozsik.
He described the sequence of events.
"A group of refugees broke through the gate, but behind it there was a police line and behind that – a water-cannon and a vehicle to disperse people" he said.
"Forty to fifty of the refugees started throwing stones, sticks, and plastic bottles at the police.
"Officers then started using pepper spray, continually. After a while, the police began using tear gas, throwing cartridges of it into the crowd. At this point everybody spread out. Now they are waiting further away.
Refugee crisis: Hungary deploys teargas at Serbia border – live http://t.co/OP4NVdoyK4 (Dado Ruvic/Reuters) pic.twitter.com/Bvfk9yVEcX

— The Guardian (@guardian) September 16, 2015
"A pregnant woman was taken out of the crowd on a stretcher, children were crying because of the gas, people retching, becoming sick with the gas, some on their knees.
"And the press, the Serbian police, were also affected by all of these things."