Chinese boat sets North East Passage record
Comments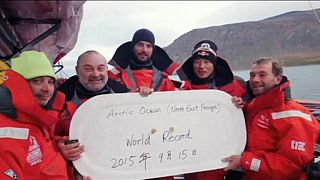 The sun rose on a new chapter of sailing history this week.
On Tuesday Chinese skipper Guo Chuan and his four crew members from Russia, France and Germany set a new record for a non-stop sail of the treacherous North East Passage in the Arctic Ocean.
Riding the waters on a racing maxi trimaran the crew took 12 days, 7 hours and three minutes to complete the challenge.
The previous mark was 14 days.
The crew covered 3,240 nautical-miles from Murmansk to Bering Straits – a route that separates Russia from Alaska.