Bottleneck on Serbian border as Hungary clamps down on illegal entry
Comments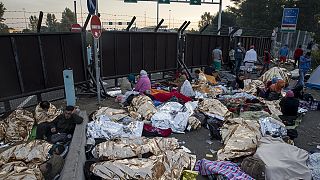 Tensions are rising on the Serbia-Hungary border, with migrants now blocking the main motorway separating the two countries.
Despite Hungary's clampdown on unauthorised entry, the number of people arriving shows little sign of slowing down, causing a bottleneck on the Serbian side.
Hungarian state media says the police have launched criminal proceedings against at least 35 people for crossing the frontier illegally.
Syrian refugee, Ahmed Rashid Yousef told reporters a combination of hunger and anger are making him and many others determined to stay at the border until it is reopened.
But this doesn't seem likely to happen soon. Reports suggest Hungary is also considering closing its frontier with Romania, to stem the flow of migrants.
Meanwhile, Serbia's interior minister Nebojsa Stefanovic has visited those stranded.
"Our job is to make Serbia as safe as possible, but also to care about these people and show that we are humane enough. But this is a European problem, this is not something that can be easily solved not even in one country of Europe and especially in Serbia, who is one of the smallest countries in European states."
Budapest has called on people to stay in Serbia and apply for asylum there. However the United Nations says the country does not have the capacity to house the thousands being turned away from Hungary.