Beirut: clashes between police and protesters ahead of political talks
Comments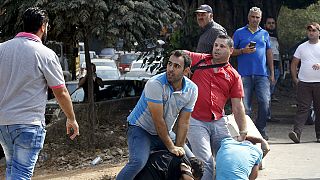 Riot police and protesters clashed in Beirut (September 16) ahead of a second "national dialogue" meeting aimed at resolving the political crisis gripping Lebanon.
At least 13 activists are thought to have been wounded and some 40 arrested as people once again rallied against uncollected rubbish in the capital.
Lebanon has, effectively been without a president for over a year. More recently, protesters have been calling for the resignation of the country's environment minister.
The breakdown in rubbish collection is seen as a more general symbol of the government's seeming failure to provide basic services.
The all-party talks will enter a third stage next week as politicians work towards ending the crises gripping the country.
Weary of the situation, demonstrators emptied bags of rubbish outside the Environment Ministry and several have taken part in a days long hunger strike.