No coalition with New Democracy warns Tsipras ahead of Greek poll
Comments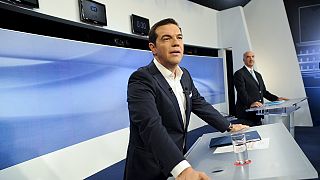 Syriza leader Alexis Tsipras and his political rival Vangelis Miemarakis took part in a TV debate ahead of Sunday's Greek general election.
Greek party leaders vie on TV but voters remain undecided. More: http://t.co/jKR2HWlWvTpic.twitter.com/PtpTkobFPz

— Neos Kosmos (@NeosKosmos) September 12, 2015
Tsipras called the vote after securing a multi-billion euro bailout from international lenders.
The left-wing Tsipras ruled out any coalition with the centre-right New Democracy party of Miemarakis.
"There will be a government. There will be no 'unnatural' government. Because what Mr. Meimarakis wants is an unnatural coalition. The country will either have a progressive government or a conservative government."
The New Democracy leader believes only a grand coalition can unify Greece.
Miemarakis says more time should have allotted for the campaign: "It was a good debate. However if we had an extra week at the hustings the electorate would be better informed about what's at stake."
Our correspondent in Athens says:" The leaders went into this debate aiming to attract the 15 percent of undecided voters, but both are aware that whoever wins will have to implement austerity measures and reforms, which will make him unpopular very soon. Stamatis Giannisis, euronews."