Hunger strikers dig in to protest over Beirut rubbish crisis
Comments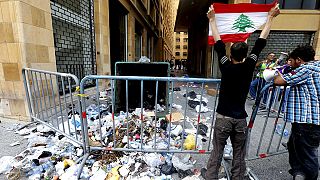 Hunger strikers in Lebanon are continuing their protest at the mounds of stinking rubbish that are piling up In Beirut. The protests began in August , and some of the hunger strikers who started to refuse food at the start of September have already been taken to hospital.
They have set up a tented camp near the environment ministry, and want the Environment minister to resign. It is protest that could take on a more general anti-government turn.
"We are on strike because we can't stand the situation anymore. We are demanding the resignation of the environment minister. We want the principle of accountability to be applied. Corruption is behind the garbage crisis and this has brought us into the streets," said one hunger striker.
Protests of any kind can be a spark that lights a flame in volatile Lebanon, where power is split along sectarian lines and leads to failures in basic needs from education and health to electricity and water.