France: PM Valls defends launch of air strikes against ISIL in Syria
Comments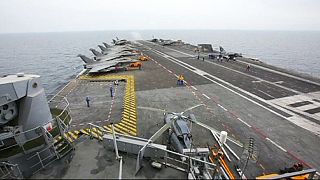 There will be no French boots on the ground in Syria.
That was the message reiterated on Tuesday by France's Prime Minister Manuel Valls.
But he said, without elaborating, that Paris would support regional ground troops if they were to intervene against ISIL militants.
Valls exclut toute intervention française au sol en #Syriehttp://t.co/vUsKBnZ13hpic.twitter.com/1uG1UuGtgf

— Le Monde (@lemondefr) September 15, 2015
At a debate in parliament, Valls defended France's air campaign against ISIL, now to involve air strikes in Syria as well as reconnaissance flights.
Stressing French control over this air mission, deemed necessary by President Francois Hollande, Valls said:
"We alone will choose which targets to hit but of course it is out of the question that these air strikes will help to reinforce Bashar al-Assad's regime."
The premier said that any compromise or arrangement with the Syrian President to reach a political solution is impossible as far as Paris is concerned.
Until now France has only taken part in air strikes against the group calling itself Islamic State in Iraq.
As it gears up to expand these operations over the border, French authorities warned that ISIL is making significant progress in Syria, especially in the region surrounding the country's second city, Aleppo.