Egyptian forces 'mistakenly kill' 12 in Mexican tourist convoy
Comments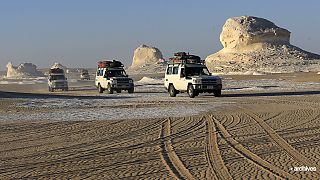 Egyptian authorities say the police and military have accidentally killed 12 people, including at least two Mexican nationals.
Reports suggest a convoy carrying Mexican and Chilean tourists was reportedly travelling through the Black Desert in the western Al-Wahat Al-Bahariya region when authorities opened fire.
Ten others are being treated in hospital, according to a statement by the Interior Ministry.
A "joint force from the police and armed forces" was said to be pursuing "terrorist elements" in the western desert, when the shootings happened at around midnight on Sunday.
Mexican President Enrique Pena Nieto condemned the attack. His Egyptian counterpart, Abdel Fattah el-Sisi, has ordered a full investigation.
"A working group has been formed to examine the causes and circumstances of the incident, as well as the justification for the presence of a tourist group in a region to which access is prohibited," the Interior Ministry announced.
A spokesperson from Egypt's Tourism Ministry said the group was not authorised to be in the area. However, the tour operator refutes the claim.
Trips to the region must be cleared by officials, Rasha Azazi of the Ministry of Tourism said, adding that the convoy "did not have permits and did not inform the authorities."
"They were not supposed to be there," she said.
Earlier on Sunday, Twitter accounts linked to ISIL had reported that they had repelled an attack by Egyptian forces.