Australia set for new Prime Minister after Turnbull ousts Abbott in party vote
Comments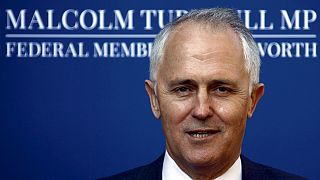 Malcolm Turnbull is set to become Australia's fifth Prime Minister in eight years after he won an internal leadership vote among members of the Liberal Party.
Outgoing leader Tony Abbott lost out with 44 votes to Turnbull's 54 in the secret party ballot.
Abbott led the Liberal Party to a landslide victory along with junior coalition partner the National Party in the 2013 election but his position has been weakened by damaging leaks, party in-fighting and perceived policy gaffes.
Turnbull, a multi-millionaire who made his fortune in banking and the tech industry, has already led the Liberal Party for a year until 2009, when Abbott beat him by one vote in a leadership contest.
Turnbull's support for gay rights and a carbon trading scheme to tackle climate change have made him unpopular with some of the party's more right-wing MPs. He does however enjoy a higher opinion poll rating than Abbott.
He said before the Party leadership vote:
"Ultimately the prime minister has not been capable of providing the economic leadership our country needs. We need a different style of leadership."
The change of guard at the top of the Liberal Party echoes the turbulence of the previous Labour Party government; Kevin Rudd led Labour to a convincing election win in 2007 but three years later was replaced as prime minister by his deputy Julia Gillard. Rudd then deposed Gillard in a counter-coup just ahead of the 2013 election, which was won by Abbott.
Turnbull is expected to be sworn in as prime minister once Abbott has tendered his resignation to the Governor General.
Tony Abbott looked crushed as he walked past reporters here abcnews</a> <a href="https://twitter.com/hashtag/auspol?src=hash">#auspol</a> <a href="https://twitter.com/hashtag/libspill?src=hash">#libspill</a> libspill2 <a href="http://t.co/KL53gjdKBR">pic.twitter.com/KL53gjdKBR</a></p>&mdash; James Glenday (jamesglenday) September 14, 2015