Latest opinion polls suggest Greek election will be inconclusive
Comments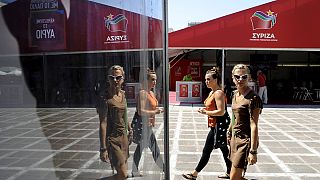 With just a week to go before Greece has another general election the latest opinion poll suggests the result is still too close to call with the two major parties still neck and neck.
The outgoing Syriza party holds a faint lead which leader Alexis Tsipras had hoped to convert into a stronger ruling majority.
"Now these elections could have been avoided normally, because most of the parties in parliament, with the exception of maybe one or two, would agree in upholding the agreement with the European Union," says the Vice-President of the Hellenic Foundation for Europe and Foreign Policy Thanos Veremis.
Only a single percentage point separates Syriza from the conservative New Democracy, while the extreme right-wing Golden Dawn has slumped to single figures and trails far behind in third place.
"Three popular votes in eight months is way too many. But what else could be done considering Syriza lost the majority together with the junior coalition, the Independent Greeks? It was hard," said teacher Theodosis Valartas.
"I don't know whether I will cast a vote, even though I live close to where I am voting. I don't know. I'm thinking about it. Maybe I will and maybe I won't. Because, let's say I do vote, will it make a difference?" asked housewife Maria.
Some 10% of voters remain undecided but a close result appears likely, as does the probability no one party will have a majority. Another coalition appears to be the only sort of government Greeks will get after September 20. But who will lead it?