More than 100 killed in Mecca crane collapse, say Saudi officials
Comments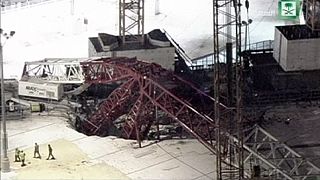 The Saudi Civil Defence agency says severe rain contributed to the collapse of a crane which has killed more than 100 people in the Muslim holy city of Mecca.
Authorities in Saudi Arabia say over 200 people were injured when the red structure crashed through the roof of the Grand Mosque.
At least 65 people killed, scores wounded when a crane collapsed in the Grand Mosque in Mecca: http://t.co/IzzdDgXlX5pic.twitter.com/pawUDZytb6

— AJ+ (@ajplus) September 11, 2015
The mosque was crowded at the time.
Mecca is preparing to host hundreds of thousands of people for the annual Hajj pilgrimage. In 2014, Saudi authorities began a major expansion of the site.
More than 60 killed in Mecca by crane collapse, reports say: http://t.co/H4cekANRWjpic.twitter.com/SC0rJxCaoW

— Slate (@Slate) September 11, 2015
As such the area of the Grand Mosque will be increased by 400,000 square metres in order to accomodate 2.2 million people at a time.
Islam asks every follower who is capable to perform a pilgrimage to the site at least once in their life.
Over the years, several tragedies have occurred due to the sheer number of people making the trip.