Mexico's Colima volcano in fresh eruptions
Comments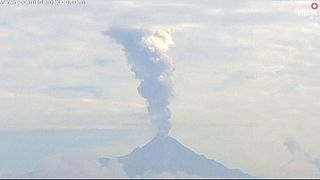 Mexico's Colima volcano has been spewing fresh plumes of smoke and hot ash in a series of small eruptions.
It is the latest in a summer of activity.
==
Colima Volcano, Mexico

https://t.co/YKcW06FoTqpic.twitter.com/MoY9Elc3rD

— JeanLucStewart (@Data2364) September 4, 2015
==
Colima has been active since July and covered local villages in ash leading to evacuations.
The Colima volcano, known as the Fire Volcano, is under permanent surveillance by volcanologists.