Huge crowds pack Barcelona for Catalonia Day
Comments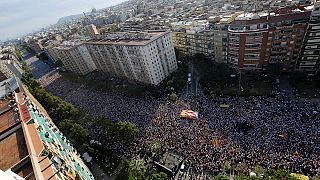 Huge crowds lined the boulevards of Barcelona on Friday for Catalonia's National Day, which also marked the start of campaigning for the September 27 regional elections.
The poll is being flagged as a proxy referendum on independence by the nationalist parties, although opinion polls currently suggest the separatist parties may only win by a narrow majority, and fall well short of 50% of the vote.
Catalonia lost its independence in 1714 to the army of Philip V of Spain, and many separatists here believe it is now or never to try and win it back.
However since a referendum unrecognised by Madrid in 2014 only saw two-fifths of electors turn out, the movement has been flagging, so a poor result on the 27th might be a death blow, at least in the immediate future.
Catalonia accounts for nearly one-fifth of Spain's output and population.