Father of murdered TV reporter promises "whatever it takes" to fix US gun problem
Comments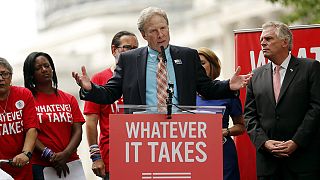 In the United States, the father of the reporter gunned down on live television last month has called for tougher gun control laws.
Speaking at a rally on Capitol Hill, Andy Parker said "too many Congress members remain in the pocket of the gun lobby"
"We can't take on the gun lobby, well that's just wrong, we can, we must and we will. That's why I said after my daughter was murdered two weeks ago I said on national television, that we have to do whatever it takes to fix this problem, whatever it takes to fix this problem," Parker told a crowd.
Alison Parker and her cameraman, Adam Ward, died when they were shot by former colleague Vester Flanagan, who worked under the name of Bryce Williams. He claimed he was harassed over his race and sexuality.
Flanagan shot himself during a police chase in northern Virginia and died later of his wounds. The woman who was being interviewed was wounded and hospitalised.