Migrants: Austrian rail suspends services to and from Hungary
Comments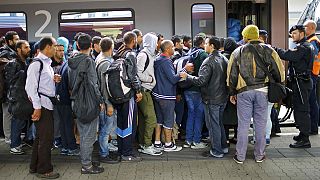 Austrian state railways have suspended services to and from Hungary as a result of overcrowding.
Special trains have been laid on to transport refugees and migrants from their point of arrival in Hungary to the Austrian border and further on to Germany, where the majority want to go.
But that has not prevented thousands from gathering once more at Budapest's Keleti station, in the hope of catching a service west.
The train company says it is too early to say whether services will be back on on Friday.
Given the uncertainty, some prefer to continue their journey on foot via the back roads.
They want to avoid registering in Hungary as this may prevent them from moving on to Germany.
Buses are available to take them to nearby transit camps, but they prefer to make their own way to the Austrian border.