Venezuela offers to take in 20,000 Syrian refugees
Comments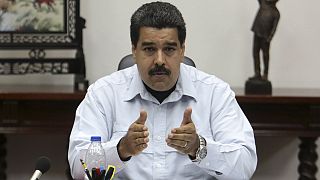 Venezuela has said it stands ready to give asylum to 20,000 refugees from the conflict in Syria.
"I want 20,000 Syrians to come to our Venezuelan fatherland, to share this land of peace, of Christ, of (independence hero Simon) Bolivar, and to help with the development of this magical land," Venezuelan President Nicolas Maduro said late on Monday (September 7).
But the offer comes as Venezuela has closed part of its border with neighbouring Colombia, and deported hundreds in what it calls a crackdown on border smugglers and criminals.
More than 18,000 Colombians who were living in Venezuela have fled their homes since the border crisis erupted last month. Images of Colombians hauling their belongings across a border river have shocked many in Latin America.
Also on Monday, Venezuelan border officials eased travel restrictions for cargo vehicles and cross-border workers showing a valid license. They also allowed some 1,600 Venezuelan students to attend school in two Colombian border towns.
But on Tuesday, Venezuela extended the partial border shutdown and sent another 3,000 troops to the area — in addition to the 2,000 already deployed.
The porous 2,219-kilometre (1,379-mile) border shared by the two countries has is often crossed by smugglers moving price-fixed goods from Venezuela to Colombia for profit, as well as illegal armed groups. Venezuela suffers shortages of basic goods, soaring inflation and the world's second highest murder rate, according to UN data.