Latest Lufthansa strike could drag on past Tuesday
Comments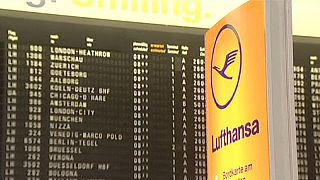 Pilots working for German airline Lufthansa could extend a two-day strike that started this morning (September 8).
Hundreds of Lufthansa flights to and from Frankfurt, Dusseldorf and Munich have been cancelled, stranding tens of thousands of passengers.
Today's strike affects long-haul passenger and cargo flights. Short-haul and Germanwings flights will be targeted tomorrow.
"We can not rule out further strikes this week," union spokesman Markus Wahl said at Frankfurt airport. "Strikes are possible in the following weeks as well."
The latest action is the 13th strike in 18 months in a long-running row over early retirement benefits, pay and cost cuts.
Lufthansa wants to lower its spending to better compete with budget firms like Ryanair.
"We are determined .. the pilots are going about this the wrong way," a Lufthansa spokeswoman said.
Strikes are said to have cost the airline around 100 million euros so far this year.
Lufthansa long-haul flights will be affected by pilot strike 8 Sep. Short/Medium-haul flights affected 9 Sep. pic.twitter.com/mypxKAsPWh

— Flightradar24 (@flightradar24) September 7, 2015