Germany welcomes 10,000 new refugees
Comments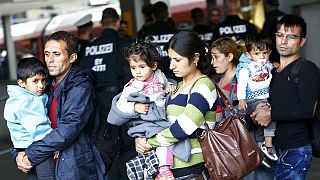 Germany was expecting more than 10,000 new refugees to arrive during the course of Monday (September 7).
Migrants and refugees received a warm welcome after arriving on a train from Austria to the German city of Munich.
They were then taken to reception centres for registration and may be transferred to shelters elsewhere in the country over the coming days.
Volunteers have brought everything from water to toiletries, clothes and other necessities and have commented on how little the new arrivals brought with them.
The influx of people comes after Vienna and Berlin agreed to waive rules requiring refugees to register a claim for asylum protection in the first EU country they reach.
Meanwhile five people have been injured after fire broke out at an asylum shelter in the German state of Baden-Wuerttemberg.
Police say around 80 people were in the building in the town of Rottenburg.
The cause of the fire is still unclear and investigations are ongoing.