Disenchanted Guatemalans vote for new leader amid graft scandal
Comments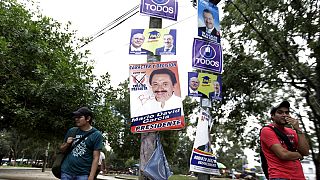 Guatemalans are due to vote for a new president, new lawmakers and mayors on Sunday (Sept. 6).
But the general elections were overshadowed all week by a corruption scandal that has forced the president to resign and fueled deep mistrust in Guatemala's politicians.
If, as expected, no candidate wins 50 percent of the vote, there will be a second round of voting on Oct. 25.
Up until Saturday (Sept. 5), voters staged protests calling for the elections to be postponed, saying the system is rotten and needs urgent change.
"The people are not getting a choice at all. The majority of candidates already seem like they would plunder our national coffers," said protester Francisco Morales Lopez.
Leading contenders in the presidential election include conservative businessman Manuel Baldizon, comic actor Jimmy Morales and former First Lady Sandra Torres. All three have pledged to crack down on corruption.
President Otto Perez Molina resigned on Wednesday and has since been jailed to be interrogated. Prosecutors accuse him of masterminding a scheme in which businessmen paid bribes to evade customs charges. He denies any wrongdoing.
Perez, a former general who came to power in 2012 on a pledge to fight crime and corruption, was set to leave office in January 2016. But, following his resignation, Congress this week transferred power to his vice president Alejandro Maldonaldo.