Willkommen in München migrants arrive in Germany
Comments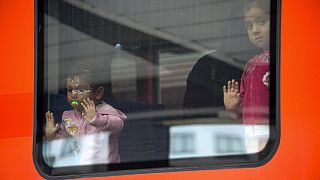 The first trainloads of migrants travelling from Hungary via Austria have arrived in the German city of Munich.

Bayern Munich's Javi Martinez went to the train station to give refugees shirts and footballs. Classy guy pic.twitter.com/0wZ7y8cZ8q

— Juan Direction (@JuanDirection57) September 5, 2015
They are the first of thousands of mainly Syrian nationals who were stranded in Hungary before being allowed to leave on buses for Austria.
Cheers rang out from the many Germans who had gathered at the station to greet them and hand out sweets and refreshments.
An applauding man is reflected in a window of a train in which a #refugee sits station #Munich Foto @AFPpic.twitter.com/3pAd4j1Cm9

— Sara Bertuccioli (@sarabertuccioli) September 5, 2015
The Bavarian authorities have been preparing for their arrival.
Emilia Müller is the Minister for Social Affairs:"Everything has been arranged in an orderly and structured manner. The regional government, humanitarian organisations and the police are working together, it's a joint operation. We are taking care of everything, we all have to stand together, this is a task for all Germany and the responsibility of all Germans."
Germany is expecting around 10,000 people to arrive with Chancellor Angela setting no limit of the number of people who can seek asylum.
#Munich showing heart. People's generous welcome for #Refugees. and DANKE @PolizeiMuenchenhttp://t.co/j9XjiMgjIOpic.twitter.com/X1ZO6TMICx

— The bellowing elk (@grAntlerMensch) September 2, 2015
Werner Kraus is from Munich police: "The initial care is administered here at the station they will be provided with food, drinks and medical checks. They will then be taken to the shelters where they will be registered and where they will stay for the moment."
A #german child saying #welcome to #refugees in #munich station #trainofhope#refugeemarch#hungary#austria#keletipic.twitter.com/jvMolhQx3l

— dadlani (@dadlani) September 5, 2015
Arabic-speaking translators are on hand to assist in the registration process.
The scenes in Munich are in stark contrast to the chaos and aggression seen in Hungary.
#hungary police forcibly take group of #syria#refugees away. Refuse to tell them or us why. Women crying. pic.twitter.com/KzaSKHNeF1

— Arwa Damon (@arwaCNN) September 2, 2015