Tribute for Keanu Reeves as Deauville Film Festival opens
Comments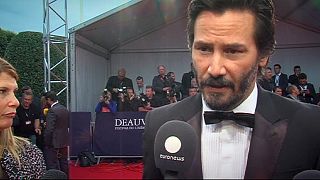 The 41st edition of the Deauville American Film Festival has opened, with Keanu Reeves among several stars to receive a special career tribute.
This is a great festival of cinema, rather than a market of cinema
The seaside festival in Normandy seeks to highlight independent and art films from the other side of the Atlantic, which may otherwise be overshadowed by Hollywood's blockbusters.
"I've been really fortunate to have the chance to perform in Studios pictures and independent films. Hopefully it continues… The Festival is fantastic, with a large range the films they bring and share with the audience. It's fantastic," Keanu Reeves told euronews.
#keanureevesdeauville</a> for the American Film Festival opening, more <a href="https://twitter.com/euronews">euronewspic.twitter.com/nWoncRXxtr

— fred ponsard (@fredponsard) September 4, 2015
As it did in Venice, Universal Pictures' adventure thriller 'Everest' opened the festival.
Based on real-life events, director Baltasar Kormakur's film follows two rival climbing teams caught in a blizzard while attempting to reach the summit of the mountain in 1996.
"This is a great festival of cinema, rather than a market of cinema, of films… People are here to watch movies and watch retrospectives and learn and share and enjoy you know," said Jason Clarke, who stars in "Everest".
Euronews correspondent Frédéric Ponsard reported from Deauville:
"After Keanu Reeves, Orlando Bloom from Pirates of the Caribbean, Ian McKellen from Lord of the Rings and also Michael Bay the director of the Transformers series will also receive tributes here. The American film festival also features premieres, retrospectives and of course a competition."