Snowden honoured by Norway for US surveillance leaks
Comments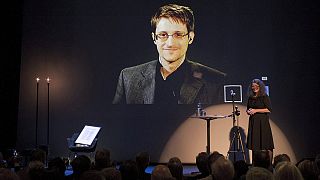 Edward Snowden has been honored by the Norwegian Academy of Literature and Freedom of Expression for his revelations of the mass surveillance programs carried out by the US government.
Unable to travel amid fears of arrest Snowden accepted the Bjornson award via videolink.
Edward Snowden receives freedom of speech prize http://t.co/zCOsXnOGVvpic.twitter.com/hw6I6Z4o9y

— Jim Clancy (@ClancyReports) September 5, 2015
Hege Newth Nouri, President of the Norwegian Academy of Literature and Freedom of Expression, delivered the accolade: "You have said that you are considering legal action in Norway in order to allow you safe passage to receive your prize next year. Edward Snowden, we are many that will fight for that to be a reality. I congratulate you with this year's Bjornson prize."
US asked Norway to arrest #Snowden; Most European countries likely received similar requests http://t.co/7Z6ETyEmCrpic.twitter.com/9QjVNuEgZo

— Anonymous (@AnonyOps) August 27, 2015
Snowden addressed the academy:
"We talk about freedom of expression. And we think about what that means in the context of recent years, the revelations of mass surveillance. It's about more then surveillance, I think, it's about democracy. It's about the relationship between the governed and the governing."
Snowden is wanted by the US government for leaking secrets of its electronic surveillance policies that gathered information on millions of Americans from emails, phone calls and internet use.
Edward Snowden Is More Popular Than Obama In Germany And Russia http://t.co/QWaUgG6UBkpic.twitter.com/o8bgq72rX9

— Gnosis (@gflaterr) March 23, 2015
He is currently holed up in Russia on a three-year residence visa.