All Africa Games get underway in Brazzaville in the Republic of Congo
Comments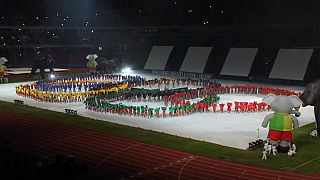 Athletes and spectators have gathered in Brazzaville for a two week long festival of sport – the African Games.
Over 8,000 spectators are in the Republic of Congo capital to test themselves against the best from the continent.
The eyes of the sporting world will be on the central African country which in the past has made headlines beyond the sporting pages.
"We want to show people that Congo is a peaceful country. This is why we have organised these African games which were first held here in 1965. This is the 11th edition and we are proud to host such an event. We want medals and podium finishes," said Alain Vitale Dimi the national wrestling coach.
Ines Boubaki a Tunisian fencer spoke ahead of the opening. "I'm proud to represent Tunisia, especially as a female Arabic fencer. These Games are well organised so our delegation is happy and I hope the rest of the competition will go well for us,'' she explained.
The Kintele stadium which was built specifically for these games seats 6,000 and is within easy walking distance of other venues like the aquatics centre and the main sports centre with a total of five new gyms. Ahead of the opening a sense of anticipation as our correspondent Andi Robini reported.
"Thousands of people have gathered inside the stadium to watch the opening ceremony. This sporting event is not closely followed in Europe but fans here will tell you a whole different story. The stage is set and athletes are ready to go so let the games begin.''
The sharp edge of competition was put aside for the opening ceremony. There was diplomacy as the event was officially declared open by the President of the Republic of Congo Denis Sassou Nguesso.
There was a celebration of the eclectic costumes and music from the 49 countries represented at the games. There were smiles and laughter.
And as is now traditional at such events the skies were lit up by a myriad of fireworks.