Migrant transit route Libya urges outside help to combat crisis
Comments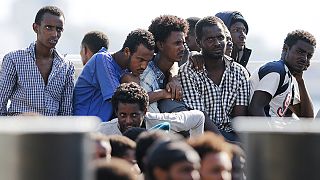 As hundreds more migrants arrived on the Italian island of Sicily on Thursday, two suspected people smugglers were picked up by authorities.
Some 835 people were brought to the port of Messina on board the Italian coastguard ship Dattilo.
One of the suspected smugglers thought to be involved is Tunisian, the other is Libyan.
Europe wants to crack down on those packing desperate people onto rickety boats in return for cash – with calls for EU warships to intervene at sea to confront the smugglers.
On the other side of the Mediterranean, more than 100 migrants of various nationalities were apprehended in Libya before they could set out on the dangerous crossing to Europe.
Lawless Libya, which has two rival governments, has turned into a major transit route for those fleeing conflict and poverty.
Mustafa al-Kulaib, the justice minister in the Tripoli-based administration, appealed for outside help.
"We are calling for a regional conference at the end of September to resolve this crisis and stop this tragedy though the participation of all destination nations including the European Union and all the source nations of migration," he said.
Tripoli blames neighbouring countries for failing to secure their borders.
The number of refugees and migrants crossing the Mediterranean to reach Europe has passed 300,000 this year, up from 219,000 in the whole of 2014, according to the UN refugee agency UNHCR.
More than 2,500 people have died making the crossing this year, it said.
Migrant deaths in Mediterranean account for three-quarters of the world total this year @HuffPostUK#MissingMigrantshttp://t.co/sEF676mBqF

— IOM (@IOM_news) 2 Septembre 2015