Insecurity greets returning Afghan refugees after exile in Pakistan
Comments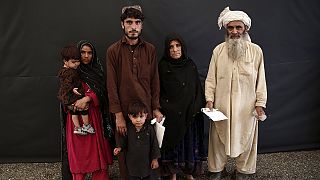 A growing number of Afghan refugees are heading home after years of exile in Pakistan.
Tens of thousands have returned under a UNHCR led voluntary repatriation programme.
#Pakistan: 51.000 Afghanen kehren dank UNHCR in ihre Heimat zurück. http://t.co/QKaV1BuAM2#Afghanistanpic.twitter.com/I5v2hVyFii

— UNO-Flüchtlingshilfe (@unoflucht) August 29, 2015
The initiative comes as relations between Islamabad and Kabul grow evermore strained.
If the countries fail to reach a deal to extend the residence permits of 1.5 million Afghan refugees by December, the trickle of returnees will transform into a torrent.
Those arriving back in Afghanistan have survived a difficult past and face an uncertain future: "We went to Pakistan to escape bombing and insecurity in Afghanistan. I lost everything during the Civil War when we took refuge there. Now we are coming back home. Unfortunately the war is still on and still there is insecurity in the country. Right after the school attack in Peshawar the situation became worse for Afghan refugees who live in Pakistan. Whenever we went to the bazaar police kept harassing us and demanding bribes of 1000 or 2000 Pakistani rupees, life was tough and we were unable to the pay money."
On December 14, 2014 gunmen linked to the Tehrik-i-Taliban group slaughtered 145 pupils and staff at an army public school in Peshawar.
The killers, all foreign nationals, included a Chechen, three Arabs and two Afghans.