Five injured as fire tears through refugee shelter in Germany
Comments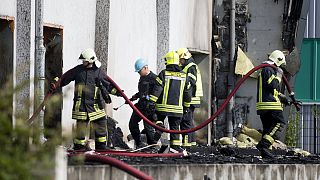 Five people have been taken to hospital after fire broke out at this refugee shelter in the German state of Hesse.
One of them is in a serious condition.
More than 60 refugees from countries in the Middle East and North Africa were housed in the three-storey building in the town of Heppenheim.
"The residents are being looked after by the Red Cross in Heppenheim," said Christiane Kobus, spokeswoman for South Hesse Police. "From there we will organise where they can be accommodated now. The house has been made uninhabitable for now by the fire. We don't know how long this will be the case."
One resident jumped out of a second floor window to escape the flames.
There is no indication how the fire started.