Turkey calls on nations to be more sensitive to the refugee crisis
Comments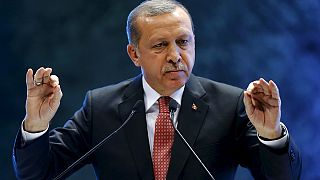 The Turkish president has called on developed nations to be more sensitive to the refugee crisis.
Recep Tayyip Erdogan was speaking after a photograph of a dead three-year-old boy whose body had washed up on a Turkish beach sparked outrage.
"I definitely don't consider the way some European countries classify refugees and admit them according to their qualifications as humane. They are being classified one by one," said Erdogan. "How can you do that? They are not agricultural products. They are human beings. We should receive them all as human beings without distinguishing."
He added: "What is drowned in the Mediterranean is our humanity."
Last week, Germany's interior minister told euronews more intensive talks were needed with Turkey. Thomas de Maizière said it was doing great work taking in refugees at Turkey's border with Syria.
"However, in the area of Izmir, there are thousands and thousands of people, perhaps hundreds of thousands waiting to head to Europe. Even there – I think – we may need to use European funds to build a large refugee camp to decide THERE who can come to Europe," said De Maizière.