Refugee crisis 'a German problem' says Hungary's Viktor Orban
Comments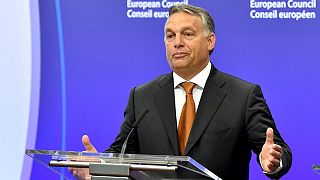 Hungarian Prime Minister Viktor Orban has described the refugee crisis as a "German problem." He was speaking to reporters after a meeting with the president of the European Parliament Martin Schulz.
"The problem is not a European problem. The problem is a German problem," he said. "Nobody would like to stay in Hungary. So we don't have difficulties with those who wants to stay in Hungary. Nobody wants to stay in Hungary, neither in Slovakia, nor Poland, nor Estonia. All of them would like to go Germany. Our job is only to register them. So?… "
Hungary is expected to fast track new measures to beef up its border security and to punish anybody who breaches the rules.