Migrants cram trains as Hungary reopens station
Comments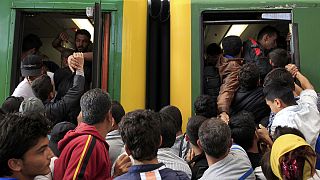 Keleti Terminus, the main railway station of the Hungarian capital Budapest, has reopened.
Migrants have poured in and boarded trains, even though Hungary's railway operator said no direct trains were leaving for Western Europe.
The police had kept the station closed for two nights.
This came after a series of flip-flop decisions by the Hungarian right-wing authorities, who earlier had closed the station then reopened it but barred the migrants entry on Tuesday.
Those inside were forced out.
Before this morning's surprise move, more than 2,000 migrants had been camped in front of the Keleti Terminus.
On Monday, Hungary and Austria had let trains with undocumented migrants leave for Germany.
The standoff has become a focal point of Europe's migration crisis, the continent's worst since the Yugoslav wars of the 1990s.
The police withdrawal at the station coincided with the start of a special parliamentary session to debate laws and punishment for anyone caught trying to breach a 3.5-metre high fence Hungary is building on its border with Serbia.
The arrival of hundreds of thousands of migrants has caught Europe unprepared, as 20 years ago it eliminated border controls for travel between 26 countries of its Schengen area, but it still requires those seeking asylum to remain in the country where they first arrive until their applications are processed.