MH370: experts now certain wing section is from missing plane
Comments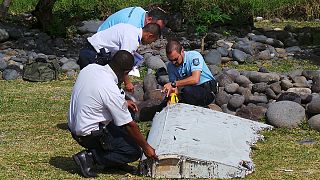 Investigators in France now say they are certain that part of an aircraft wing found on the island of Réunion in July did come from missing flight MH370.
The section, known as a flaperon, was from just behind the engine
There were 239 passengers and crew on board the Malaysia Airlines flight, which disappeared after veering off course on its way from Kuala Lumpur to Beijing in March 2014.
The wing section was found 4,000 miles from the perimeter of the search zone.
It was flown to France and examined by aviation experts.
They now say a partial serial number on the wing matches that of the missing plane.