Australian sheep shave breaks world wool record
Comments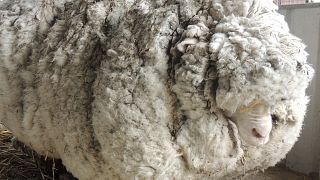 Around 40 kilograms of wool has been shorn from a sheep found near Australia's capital, the RSPCA said on Thursday, making him unofficially the world's woolliest.
The animal, named Chris by his rescuers, was discovered wandering the northern outskirts of Canberra on Wednesday and was said to be struggling to walk under the weight of his coat.
Tammy Ven Dange, chief executive of RSPCAACT, the Canberra division of the animal charity, estimated that Chris had more than five years of wool on him and had probably had little contact with people.
The previous official record was held by a New Zealand sheep named Shrek, in 2004: 27kg.
Chris is cooler now.
We need help from a sheerer to save this big Merino or if you can at least lend us the tools. Please call rspcaact</a> <a href="http://t.co/Pnsfqm6czu">pic.twitter.com/Pnsfqm6czu</a></p>&mdash; Tammy Ven Dange (tvendange) September 2, 2015
Sheep "Chris" is now pondering his new lighter self post rspcaact</a>. Note that the pink stain is antiseptic spray. <a href="http://t.co/zDwrfxb9qn">pic.twitter.com/zDwrfxb9qn</a></p>&mdash; Tammy Ven Dange (tvendange) September 3, 2015