US president tours Resurrection Bay to highlight Alaska climate change
Comments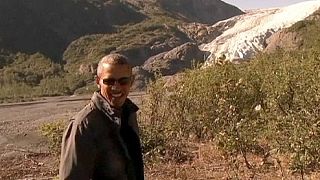 US President Barack Obama has toured Resurrection Bay in the US state of Alaska.
Obama is counting on Alaska's deteriorating landscape to elicit a sense of urgency for his call to action on climate change.
Earlier this week, he told a meeting for foreign ministers in Alaska that world leaders must agree to cut carbon emissions at a UN summit planned for December in Paris.
He said the Alaska had "some of the swiftest shoreline erosion rates in the world."