Suspect arrested after Paris fire kills 8 people including 2 children
Comments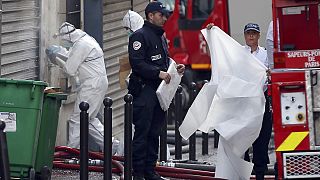 French police have arrested a man in his 30s who they say "might have been at the scene" of one of the deadliest fires in Paris.
Eight people, including two children, were killed when an apartment was engulfed in flames on Wednesday morning.
Police suspect the blaze was started deliberately.
"There was a small paper fire first and we intervened," explained Gabriel Plus, Paris firefighters spokesperson. "We stopped the fire quickly, and ventilated the stairwell. There was nothing to suggest a small fire would have such tragic consequences and yet we were called back to the same address two hours later. And then we had a totally different scenario."
A witness described hearing women and children in the building screaming "save us!"
Police say two of the victims died after they tried to escape through windows.