Guatemalan congress votes to strip president of immunity
Comments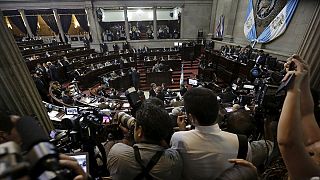 The impeachment of Guatemalan President Otto Perez Molina has moved a little closer after the country's congress voted to strip him of his immunity, paving the way for corruption charges.
The 64-year-old is embroiled in a scandal over facilitating the avoidance of import duties in return for bribes. The scandal has become known as "La Linea" or the line, a phone hotline used in the scam.
Last May , Vice President Roxana Baldetti resigned after she was linked to "La Linea". She has since been arrested and charged with illicit association, bribery and fraud over the customs racket.
 
President Molina denies any wrong doing.
Guatemala is holding elections Sunday (Sept 6 ) but under the constitution President Molina cannot run for re-election.